Listen to this Episode Now...
ALANA FAIRCHILD SHOWNOTES:
Alana Fairchild is one of Australia's most respected metaphysical teachers and self-help authors. Alana writes, sings, dances and channels her way into the hearts of thousands of people around the world with her bestselling oracle decks, books, meditations and sacred music.
Alana has a unique approach to her work, combining music, dance, voice, channeling, sacred ritual and energy work to create a powerful experience of the divine. Feedback from her workshops is consistently high, participants calling them 'mind blowing' and 'life changing'. Her oracle decks are considered by many to be the best in the world, earning her the title of 'oracle goddess' and inspiring a devoted following of her work.
Alana provides a professionally-recognised online training program for healers, and teaches workshops and performs her sacred music internationally. She has an extensive body of work including books, meditation CDs, sacred music, oracle decks and affirmation cards for those keen to discover and deepen their own unique spiritual path.
Her commercial appeal extends to a broader mainstream market with a series of self help books, cards, guided relaxation CDs and uplifting music.
Alana's signature approach is loving, comforting, humorous and empowering. Her mainstream market self-help material, including fun-touse books like "What to do when you don't know what to do" and "55 Keys" and her best-selling "Butterfly Affirmations" cards, support even the uncertain beginner to let go of fear and find more happiness and confidence in life.
Alana's creative projects include the Divine Circus, a feel-good, high energy electro-pop dance act with live vocals and drumming. Divine Circus is the ultimate festival closing act, sending the audience home on a high. Divine Circus also hosts exceptionally well-received private dance events, creating a safe and conscious environment for people to dance and express themselves, getting wild and feeling uplifted.
Alana is known for her very open and loving nature, her sense of humour, beautiful singing voice, feminine appearance and seemingly endless creative energy which results in new products and projects being created at an unusually rapid rapid. She's been labelled a 'publishing phenomenon'.
She is regularly interviewed on radio and has been interviewed on TV, encouraging those who want to live a happier and more beautiful life to believe in themselves and take a leap of faith.
Alana has been in conscious connection with her spiritual guidance her entire life and from that she learned two things. Firstly, that not everyone has that gift and secondly, that she could use it to help people find peace, happiness and fulfilment in their lives. She does this through the many facets of her work.
With tertiary degrees in literature and law, as well as training in numerous creative healing fields including psychotherapy and counselling, dance, music, meditation, channelling and energy healing, Alana unites her bohemian, free-spirited nature with discipline and dedication to her sacred work.
Alana is passionate about empowerment, freedom and the spirit that lives within every human being. She believes that every person has a sacred life purpose and works with them to uncover their innate talents and live the life they are divinely meant to live. She also believes - very strongly - in the healing power of fun. Which is quite possibly why she is so often heard laughing.
Her website is alanafairchild.com
Connect with Alana: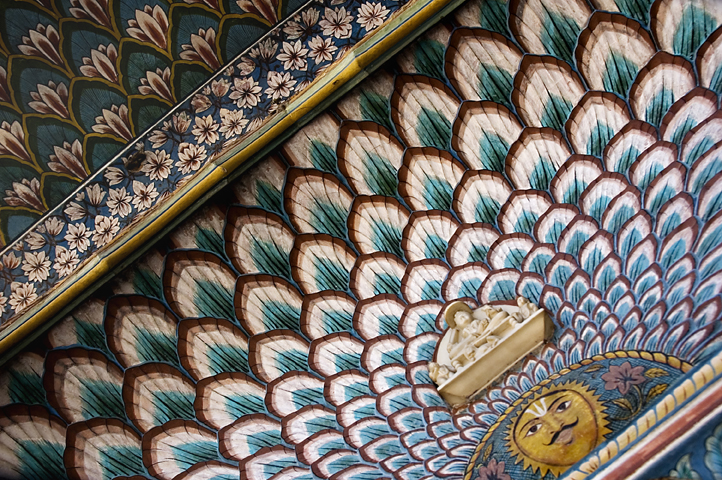 Travel Image ~ Lotus Gate
Jaipur, India
The City Palace in Jaipur is within the old city amongst the dusty pink dwellings and shops that dominate the landscape. Within the confines of the palace walls is Pritam Niwas Chowk, a courtyard that houses four intricately designed doors representing the seasons. This is the Southwest Lotus Gate, dedicated to Shiva and Parvati, represents the summer season & divine union. The lotus grows from the depths. The lotus opens anew each day and has a chance to experience the world in a whole new way.