Listen to this Episode Now...
KIMBERLY JOHNSON SHOWNOTES:
KIMBERLY ANN JOHNSON was a yoga teacher and bodyworker whose body, and life, was permanently altered when she sustained an injury during childbirth.
Determined not to get a full pelvic floor reconstructive surgery, she traveled the world learning about postpartum practices. After healing herself, she became a doula, Sexological Bodyworker, and Somatic Experiencing practitioner so that she could help women through this important and overlooked phase of development that is the postpartum period. As is taught in many traditional cultures, she believes that when nurtured and taken care of properly, women can emerge from this rite of passage stronger, more whole, and with more access to their power. S
he believes the same is true of relationship, that with the right tools, marriages and partnerships can be more connected and robust after children. For this reason, she wrote The Fourth Trimester: A Postpartum Guide to Healing Your Body, Balancing Your Emotions, and Restoring Your Vitality to be published by Shambhala Press in December 2017.
To learn more about how to have a radiant postpartum experience and how to do a decent Kegel, go to her online home at magamama.com.
Kimberly has a private practice in Encinitas and Los Angeles, CA specializing in birth injuries, birth trauma, and sexual health. She is the co-founder of the STREAM School for Postpartum Care with her mentor Ellen Heed, where they train professionals to help women heal from painful sex, birth injuries, and genital trauma.
Her most outstanding accomplishment is being a single mom to fiery 10-year-old, Brazilian daughter, Cecilia.
Connect with Kimberly:
For pelvic floor mapping: http://magamama.com/pelvic-mapping/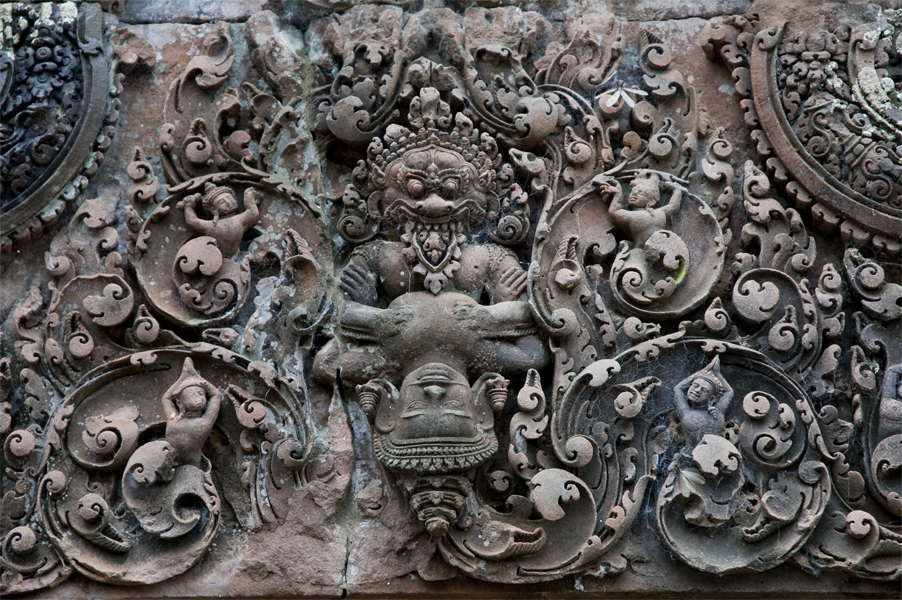 Travel Image ~ Sensual Lineage
Banteay Srei, Temples of Angkor, Cambodia
The intricately carved pink sandstone of Banteay Srei is touted as the artistic jewel of all the temples of Angkor. From the outside it appears very small and perhaps not worth the 30 kilometer tuk-tuk journey, but the incredible carvings and stories told on its wall are well worth the voyage. The detail must have taken Khmer craftsmen endless hours to portray their reverence to sensuality. The craftsmen devotion to the sensual myths of Khmer history of the demons & the goddess could be felt. These are the preserved reminders of our global lineage of sensuality & now is a time of deep remembering.